Hubbard Properties, LLC contracted with Sun Tribe Solar to install a rooftop solar PV system at their Inova Solutions building located just off Charlottesville's down

town mall and the Commercial Clean Energy Loan Program, funded by the City of Charlottesville and administered by LEAP, helped make the project a reality. "It made it feasible. Having the cost of financing go to zero was huge, a game changer. When we found out that was an option, it was easy to say yes to the project," says Inova Solutions founder, and building owner, Tom Hubbard.

The PV system consists of ultra-high efficiency monocrystalline panels paired with an inverter configuration that utilizes panel level optimization and monitoring. Despite the space constrained roof, the system has a capacity of 98kW and will provide over 16% of the three story building's total electricity usage.
Sun Tribe's Chief Technical Officer, Taylor Brown is confident that most businesses have the desire to invest in solar projects for the environmental and cost savings benefits, but sometimes businesses see the financing cost as a heavy burden.
"Charlottesville's Commercial Clean Energy Loan Program is accelerating the adoption of solar by local businesses by buying down the interest rate on the financing, making it a much more attractive option now, rather than years down the road. The program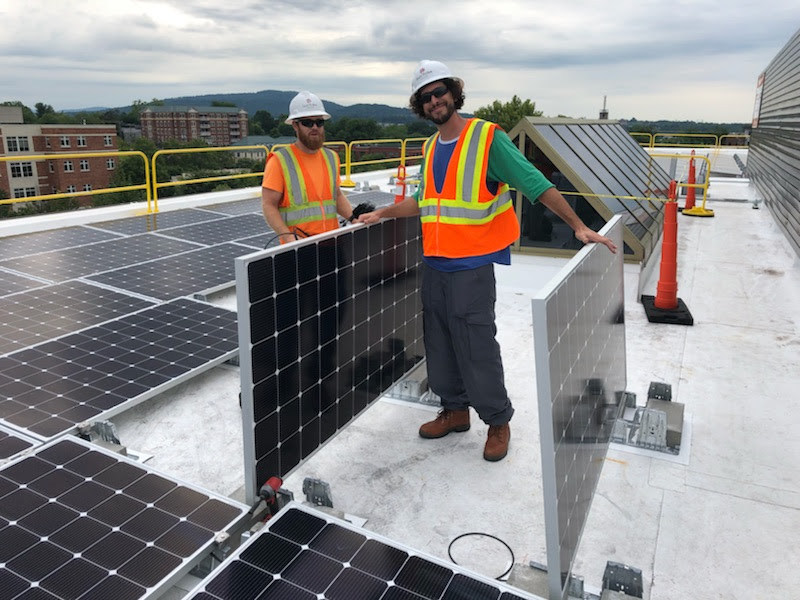 allows businesses to use their lender of choice, making the process simple and efficient," says Brown.
Hubbard Properties also used the loan program to cover the building roof with a white membrane that saves energy by reflecting light and heat away rather than absorbing it and two EV charging stations in the parking lot. Recently, the outdoor lighting was switched to LED bulbs and four hot water heaters were replaced with three tankless heaters. Now, the company is looking at indoor LED lighting, water use, and tenant activities that affect energy use.
"There's always room for improvement," says Hubbard.