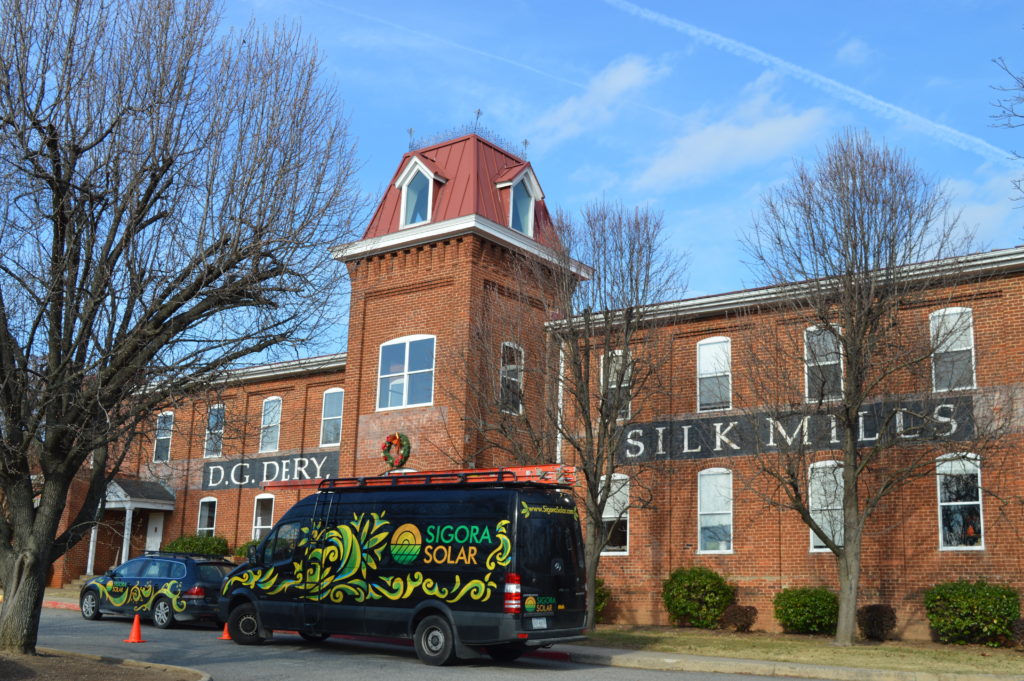 Instead of a groundbreaking to celebrate the new solar installation on the historic Silk Mills building, Indoor Biotechnologies hosted a "Skybreaking" ceremony on January 8, 2018 to celebrate its new ability to harness the sun for electricity.
The 155.25 kW photovoltaic system, installed by local firm Sigora Solar, is one of the first PV system installations under the reinvigorated Charlottesville Commercial Clean Energy Loan Program, a partnership between LEAP and the City of Charlottesville, and will provide 50% of the company's power needs.
With federal and city tax credits for solar, combined with the reduced interest rate through the loan program, Charlottesville businesses investing in solar and other energy upgrades can see a quicker return on investment and drive the adoption of clean energy.
Speaking at the 'skybreaking', Indoor Biotechnologies's president and CEO, Martin Chapman, said financing and tax credits provided by the partners were critical in moving this project forward. He added that the company is fully committed to sustainability and renewable energy.
Financing for the Indoor Biotechnologies project came from Pioneer Bank, a community bank. LEAP's program will pay the interest on the loan down to 0% APR. As a result, the LEAP program will save Indoor Biotechnologies $60,0000 in interest.
"We're excited to work with Indoor Biotechnologies, Sigora Solar, and Pioneer Bank on this project," said Lesley Fore, LEAP's executive director. "We adapted the Charlottesville Commercial Clean Energy Loan Program to make it more flexible for projects like this. We hope that by showcasing the great efforts Indoor Biotechnologies has made towards energy efficiency and renewable technology, we can encourage more businesses in Charlottesville to take advantage of the program in 2018 and in the years to come."
In addition to the interest savings, Indoor Biotechnologies is expected to see a 50 percent reduction in their energy costs. Sigora Solar's Jon Proffitt translated the environmental benefits saying the "450 panels have the same carbon sequestration capability of 170 acre US forest or the avoidance of burning approximately 150,000 pounds of coal each year."
"The City of Charlottesville is committed to energy efficiency, renewable energy, and climate change programs community-wide and within its own organization," said Councilor Mike Signer. "The City partnered with LEAP to establish the Commercial Clean Energy Loan Program, an interest rate reduction program, as a strategy to promote, enable, and invest in the use of renewable technologies and energy efficiency improvements in commercial properties."